After collecting responses from over 300 industry insiders about the future of internet radio and other streaming services, XAPPmedia and RAIN News held a free webinar to present the findings. The webinar, presented by Brad Hill of RAIN News and Bret Kinsella of XAPPmedia, covered topics ranging from time spent listening to the future of podcasting. Some other areas included:
Ad loads on Internet radio
Ad loads on broadcast radio
Ad rates and subscription pricing for streaming services
Audio webcasting royalty rates
Last week, XAPPmedia published an eBook with the findings from the survey. To download the full eBook report, complete with graphs and statistics, click on the button below.

---
To watch the full webinar that originally aired last month, click on the video below.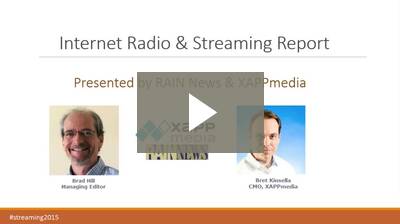 Related Posts 
Industry Insiders Speak Out – New eBook on Survey Results
Download the Internet Radio Ad Load Report
Internet Radio Trends Report 2015